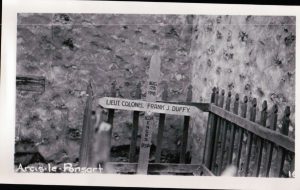 Having returned to the U.S. from France with the 28th Division (Pennsylvania National Guard) earlier in May 1919, six months after the armistice, Anderson spent Memorial Day (Friday, May 30) preparing to be mustered from federal service the next day, back to civilian life. Pennsylvania had held a parade in the division's honor, on May 15th. Anderson, as an officer, rode a white horse, "courtesy of the Philadelphia Police Department."
The Great War, as it was then known, had cost the lives of many, many fine men (and women. The American Battle Monuments Commission cemetery at Montfaucon has more than 10,000 headstones of Americans – men and women – who lost their lives in France during WWI. Montfaucon is only one of numerous such cemeteries), including many known by Anderson.
Included on this honored list of war dead is Lieutenant-Colonel Frank J. Duffy, Executive Officer of Anderson's 103rd Engineer Regiment, of the 28th Division. Duffy and his driver, Private First Class Frank G. Fiore, who were killed by a German artillery shell on August 17, 1918, during offensive actions following the defense of the Marne. Duffy's initial burial site is shown here, at Arcis-le-Ponsart, ten miles west of Reims.
Remembrance and a grateful thanks during this Memorial Day weekend, to all those who served and sacrificed for our great country, for the freedom and liberties we enjoy.